#Giving Tuesday
Could you support your family for a day? This is difficult for many of us to imagine.  Yet, $1 is the average daily income for many of the children that we sponsor.   With your support, together we provide hope for these children. This is your opportunity to give back.  This is your opportunity to give to a someone who can really benefit from your generosity.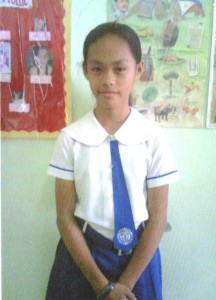 "Thanks for everything I appreciate your kindness very much, I hope you'll help more children like me." – Jessica
Jessica had faced enormous challenges while attending public school in the Philippines.  Public schools in the Philippines are overcrowded. Student to Teacher ratios is 45 to 1.  Students attend classes for only four hours per day to accommodate all the children at each grade level.
Your investment in the lives of children will make a difference.
We were able to match Jessica with a sponsor in the United States who paid her tuition for the less than 10 dollars per month. Jessica received high honors for every grading period.  Jessica received three scholastic achievement medals and special recognition at her graduation earlier this year.
Education is essential if we are to eradicate poverty.
Jessica's father is a tricycle driver and her mother is unemployed and they live on roughly one dollar per day.   Sponsorship is the only way that their daughter would have been able to receive a private school education.   Without our sponsors children like Jessica are destined to live a life that is quite similar to their parents.  Please help us break the cycle of poverty. With your help we can make a difference.  Jessica and other children like her is waiting for generous people like you who have a heart for the children.  So go to www.beyondbordersinternational.com to make a donation of any size.   Thank you.
Sharon Charleston
Director, Beyond Borders International
mail@beyondbordersinternational.com